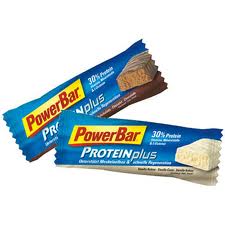 Everyone's doing it – protein shakes, energy bars, sports gels, fat burning supplements, creatine, energy drinks… the list goes on. So why shouldn't you? If this thought has crossed your mind, or if you're already consuming any of these supplements, you should know the truth behind supplements before you fully buy into them.
I was recently interviewed very briefly by a student reporter on CBC news who did a story all about "exercise supplements". Watch the short clip here. I would like to clarify a couple things they misquoted me on:
1)      Creatine does not dehydrate you. Energy drinks can, but not creatine.
2)      15 g of protein is an estimated amount of protein that can be synthesized after a workout for the average male teenager, however, it is only an estimate and this can vary       between individuals. The amount of protein that can be synthesized by our bodies after a workout depends on a variety of different factors including intensity of the workout, body weight, and basal metabolic rate to name a few. That being said, for adults 15-20 g of protein after a workout is a good number to go by in order to speed up the repair of damaged muscle tissue that can naturally occur during exercise.
Now back to some general rules of thumb when talking about supplements. First of all, supplements should only ever be used as the name implies – as a supplement to a healthy diet made up of whole foods. Supplements of any form should never replace real foods. Most of the time, sports supplements are completely unnecessary and a waste of money, not to mention the added stress some might cause the body. However in some more rare cases, for example ultra-endurance athletes like iron-man triathletes, supplements can be useful in order to help meet extremely high caloric and nutrient demands.
Health Canada does regulate supplements in an attempt to ensure they don't have any banned or illegal substances and actually do what they claim in a safe way. Always look for a Natural Health Product Number (NPN) or Drug Identification Number (DIN) – an 8 digit number that should appear on the label. However, according to the Canadian Centre for Ethics in Sports, the amount of government regulation on the supplement industry is small. Some supplement manufacturers mislabel their products by not accurately listing their true contents or relative amounts. There is also a risk of cross-contamination with banned substances during the manufacturing process. Both of which can lead to a positive drug test for an athlete which can have significant consequences on their career.
Before you resort to supplements – ask yourself, can I meet my nutritional needs using whole foods rather than paying extra money for a supplement that might not be well trusted? If the answer is no, consider putting in extra time or effort to change your diet in order to meet your needs. For example, it's not uncommon for an athlete or active individual to rush out the door from a training session to make it to work or another commitment on time. The easiest thing that comes to mind to refuel might be a protein bar. Keep in mind you actually need more carbohydrates post-workout than protein in order to replenish glycogen stores that are used up during a workout. However, recent research shows that protein within the first hour after a workout helps to promote the increase in protein rebuilding. So how can you refuel properly with both carbs and some protein after a workout without a protein shake or protein bar? You need to plan ahead. Try the "Nutty Muffins" recipe at the bottom of this post – it provides you with 29 g of carbs and 12 g of protein. If you want more protein and slightly more carbs, combine it with ½ – 1 cup of skim milk or soymilk. You can also try making your own protein bars (see the recipe at the end of one of my earlier posts), have 250-500 mL of chocolate milk and a fruit, or a couple handfuls of trail mix made with equal parts nuts/seeds, dried fruit, and cereal. Just don't forget to pack them in your gym bag if you know you'll be on the go!
If after reading this you still don't think you'd be able to meet your needs through whole foods, talk to a registered dietitian who specializes in sports nutrition for more information on strategies to meet your needs, or about which supplements are recommended and when you should consume them.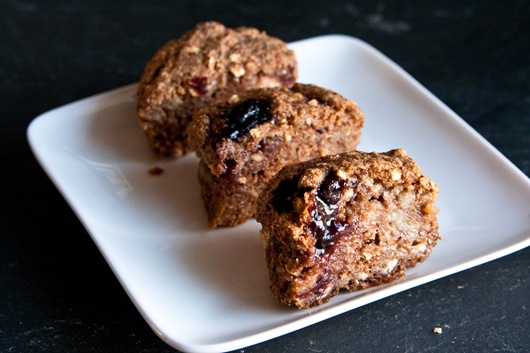 Nutty Muffins
3/4 cup rolled oats
3/4 cup buckwheat flour
1/2 cup Hemp Seeds (or 'hemp hearts')
2 tsp cinnamon
1 tsp baking powder
2 eggs
1.5 cups applesauce
2 Tblsp agave nectar or honey
2 medium bananas
12 tbsn peanut butter or almond butter
½ cup chocolate chips (optional)
Preheat oven to 350 degrees. Mix dry ingredients (oats, flour, hemp seeds, cinnamon, baking powder) together well, then create a volcano and mix in the wet ingredients (applesauce, agave nectar, bananas). Fill muffin cup 1/2 full then make crater in the middle of the batter. Scoop a tablespoon of peanut butter or almond butter in the middle of the crater then top off with more muffin batter. Sprinkle some chocolate chips on the tops if desired. Cook 20-25 min, until the tops start to brown around the edges.
Nutritional Information
Calories: 300 kcals, Total Fat: 12.5 g, Saturated Fat: 2.5 g, Cholesterol: 53.8 mg, Sodium: 22.3 mg, Total Carbohydrates: 28.8 g (Dietary Fibre 4.3 g, Sugars 9 g), Protein 12.3 g